Specification


9cm*11cm*1piece*3bag*120box/carton
We can customize the packaging according to your needs


Main structure


This product is composed of inside and outside the bag, the bag by the application of membrane non-woven fabric and non-woven fabric containing pressure sensitive adhesive and silicone oil paper


Applicable scope


Apply to aid in the treatment of maternal warm palace.


Usage:


1) Pull apart the vacuum packing and bring out the pad after confirming it is not damaged
2) Tear off the silicone paper,then stick the pad onto the outside of the of your underclothes to the lower abdomen in the middle of the belly button
3) Just remove it after you using it,Each pad is used for 12 hours and is replaced every day



Product Show: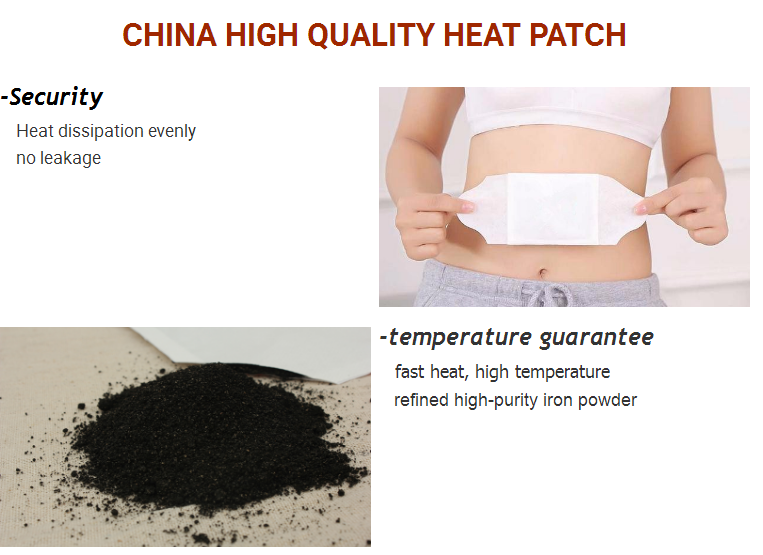 Caution:


a) This product is free of any toxicity and risks of combustion, but do not swallow the contents.
b) Must stick the pad onto the outside of the of your underclothes Don't stick the patchs directly on your skin .
c) Please note low temperature burns ,When body contact objects which temperature is higher than Human body for a long time, please notice low temperature burns without pain may happen.
d) Do not use while sleeping. When using in bed or with heating equipment together, the temperature will raise to 70 degree centigrade, in this condition may cause burns.


Taboos:


Packaging damaged are forbidden to use ,Diabetes patients, pregnant women, Blood circulation disorders, person with low skin sensitivity, please use cautiously


Product advantage


a)Deep penetrating heat ,works lasted 10-12 hours
b)Portable to take ,easy to use.
c)Our product are made of Pure traditional Chinese medicine For external use only.Do not eat it.No side effect.
d)Can improve blood circulation, promote uterine contraction
e)Adjust endocrine system and metabolism.