What are MREs?
We've got the Best Prices and Best Variety of Ready to Eat MRE's
We are the biggest manufacturer in China of MRE ( Meals Ready to eat), for military, civilian and emergency preparedness.
We've been a trusted manufacture of civilian Military Meals Ready to Eat for over 60 years--since 1960 ! Former Chinese people's Liberation Army No.4003 Factory, designated manufacturer for PLA.
MREs (Meal Ready to Eat) are the ideal emergency preparedness and survival food - they are ready to eat, with no preparation required! They are also great for outdoor activities such as camping, hunting, hiking, biking, fishing, RV and motorcycle road trips, and general outdoor recreation. We have a large selection of high quality, fresh MRES - MRE Full Meal Cases, Entrees & Side Dishes, Beef fried rice, Chicken fried rice, Pork fried rice, Fried noodle, Sauced beef, Spiced pork, Ham, Spicy cabbage, Fresh crispy cucumber, Spicy sauce, Drink Powders, and Flame-less Ration Heaters & Other MRE Accessories.
Title: Ready To Eat Foods Instant Quick Cookig Self-heating Soy fried rice Meal
We have provided a large number of high-quality military food for the "1976 Tangshan earthquake", "Vietnam's defensive counter-attack","1998 fighting a flood","2008 wenchuan earthquake","2017 jiuzhaigou earthquake",ect.and provided food for the Chinese peacekeeping troops and engineering units. Made a major contribution for the army's logistical support.
INSTRUCTIONS:
1.Please tear the heating bag along the top notch,to lay it flat. Pour the water into the water bag reach the water injection line, then pour the water back to the heating bag.
2.Please turn over the self-heating food and lay it flat, fold up the heating bag mouth, don't let the water out during the process.
3.Please turn over the self-heating food every 5 minutes, don't let the water out, after 15 minutes, take out the food and enjoy it.
| | |
| --- | --- |
| Product Name | ASSORTED FRIED RICE MENU |
| Ingredients | 300g Assorted fried rice,40g Beef sausage,20g Pickled mustard tuber |
| Serving Suggestion | Heat the entree food according to the operate instruction, the side dishes are instant. |
| Shelf Life | 36 Months |
| Storage Condition | Store at normal temperature in a cool, dry place. |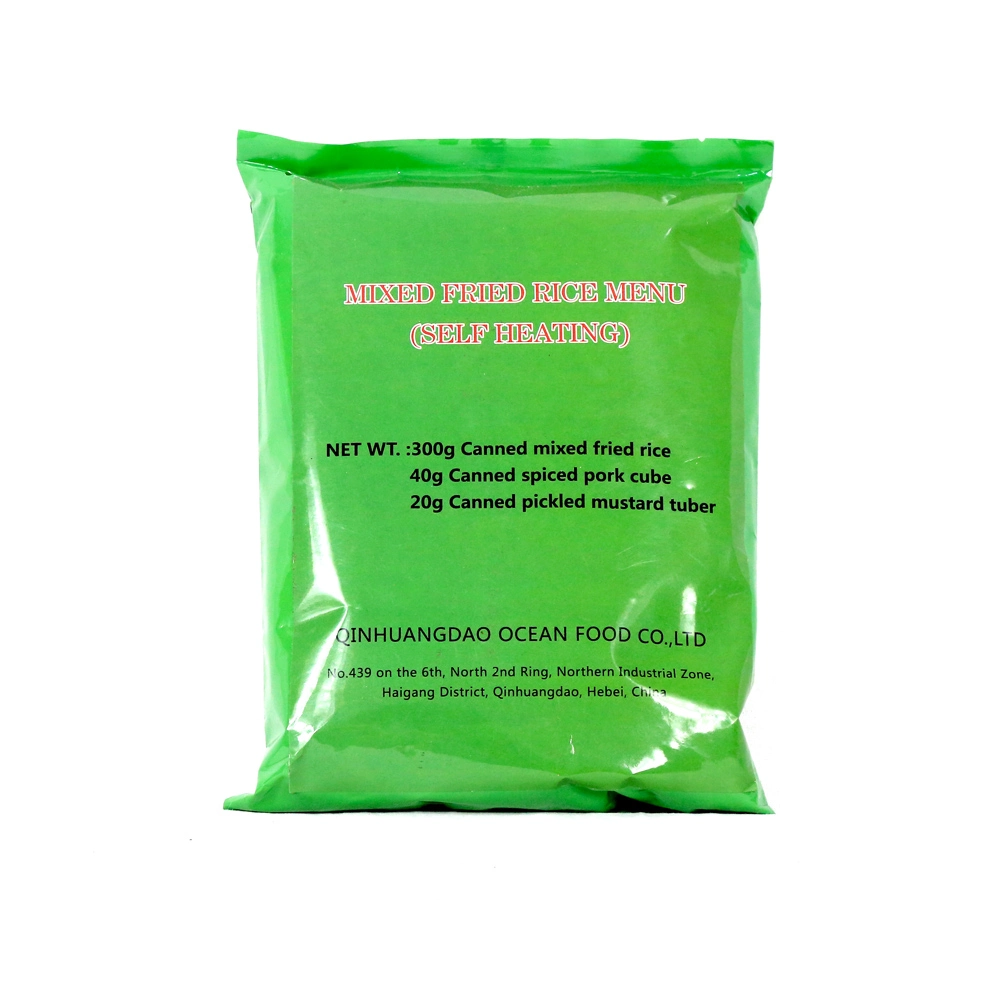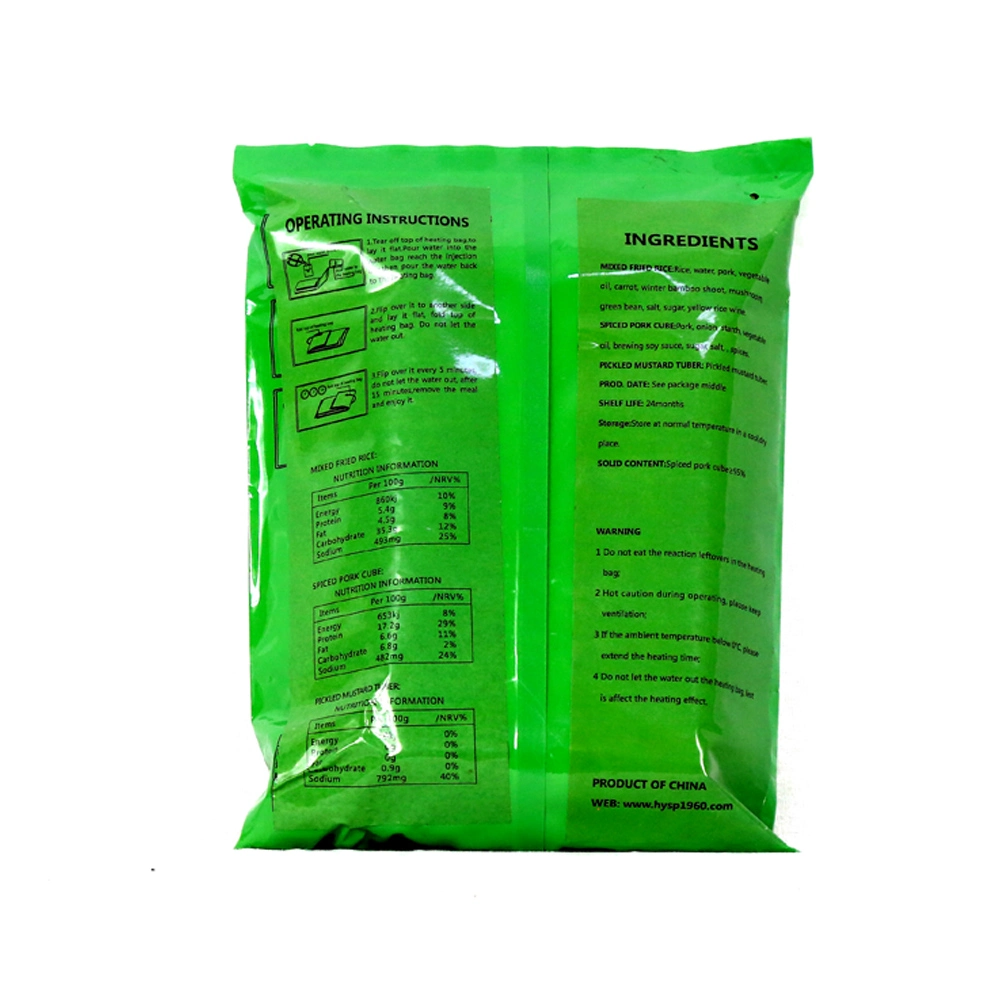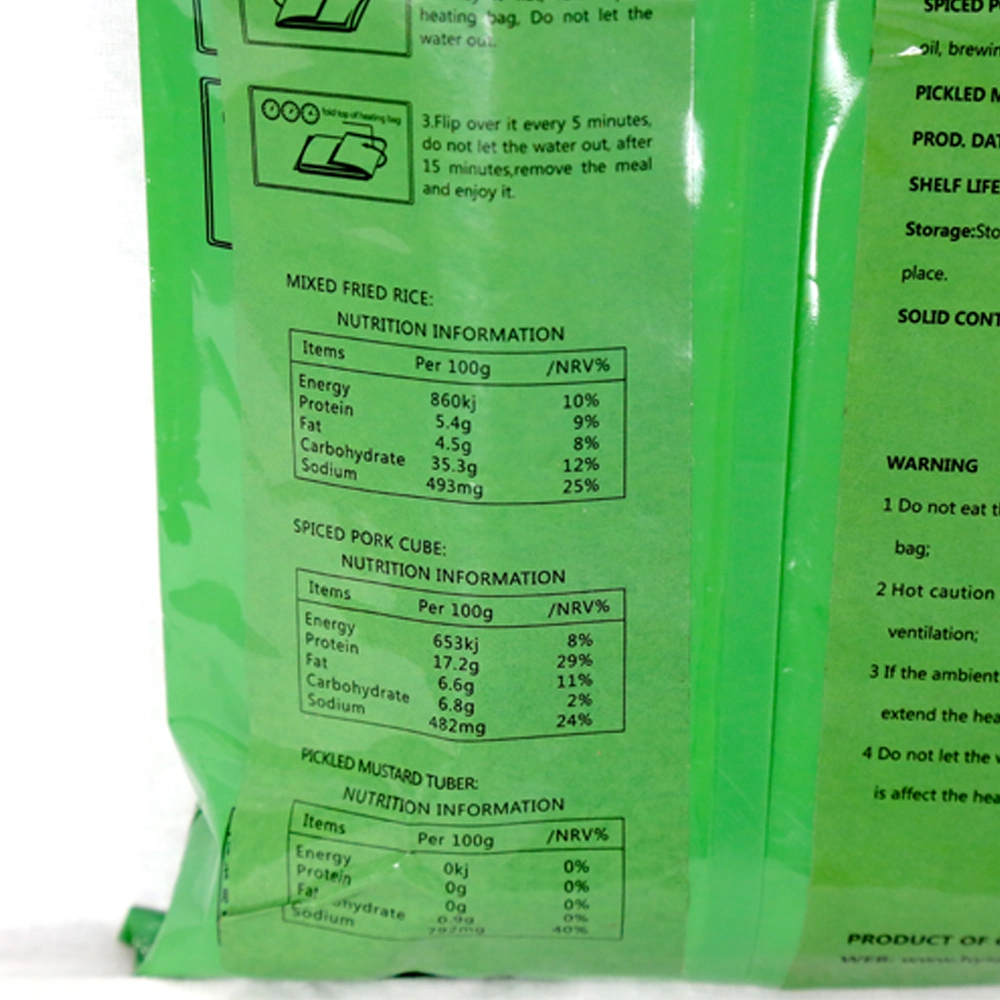 Qinhuangdao Ocean Food Co.,Ltd.is formerly known as the Chinese People's Liberation Army No.4003 factory,was founded in 1960, located in the beautiful coastal city Qinhuangdao,belonging to the navy logistics department.We are the only food-processing enterprise in the army which could provide the integration of R&D,production,sales with a large-scale.