Auto Vertical Packing Machine for Noodles/Rice Noodle Filling Sealing Machine VFFS machine
1)Machinery running:
https://macgomachine.en.made-in-china.com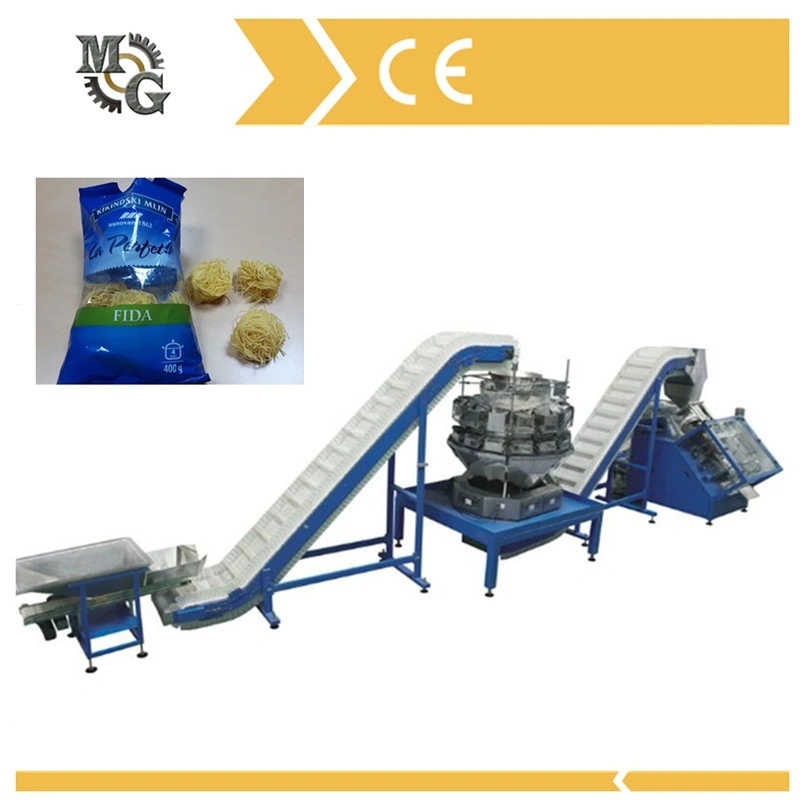 2)Equipment list:
Description
Quantity
MG-520A AUTO VERTICAL PACKING MACHINE
1set
BAG FORMAT
1 pc
Z SHAPE ELEVATOR(2PCS),ONE WITH VIBRATOR FEEDER
2 pcs
MJW-A10 TEN HEADS MULTIHEAD WEIGHTER(5L)
1 pc
MG-130 FINISHED PRODUCTS CONVEYOR
1 set
Total
6 sets
Notes: 1.All parts that contact with foods will adopt SS304
2. ribbon printer, nitrogen filling device included
3)MG-520A VERTICAL AUTOMATIC PACKING MACHINE
Technical characteristics:
1.PLC control with stable, reliable biaxial high accuracy output and color touch screen, bag-making, measuring, filling, date printing, cutting and sealing in one operation.
2. Box-packaging bag is more elegant.
3. Servo motors driven, high precision orientation, size more nicety;
4. External film releasing mechanism: simpler and easier installation of packing film;
5. The process of vertical sealing can adjust the volume deviation automatically;
6. Stand bag with burns edges, 4 sides seal edges;
Application
It is suitable for packing powder products such as chocolate powder,pudding powder, milk powder, flour, sugar etc. as well as grains like rice,nuts,etc. Max volume 2000ml.
Technical Parameters:
| | |
| --- | --- |
| Model | MG-520 |
| Bag length | 80-400mm(L) |
| Bag width | 80-250mm(W) |
| Max width of roll film | 520mm |
| Packing speed | 5-50bags/min |
| Measuring range | 2000ml(Max) |
| Air consumption | 0.65Mpa |
| Gas consumption | 0.4m³/min |
| Power voltage | 220VAC/50HZ |
| Power | 4Kw |
| Dimension | (L)1150×(W)1795×(H)1650mm |
| Deadwight of machine | 600KG |
4)MJW-A10 MULTIHEAD WEIGHTER
Technical Characteristics:
1. Select the best combination immediately from diversified weight combination through computer with perfect combination of high precision and high speed.
2. High precision data-type weighing sensor realizes precise weighing.
3. Liquid crystal screen operating system in multiple languages such as Chinese and English ,etc.
4. IP65 grade water-proof and dust-proof design . It's clear and sanitary with all stainless still parts. Full sealed design prevents accumulation of material and facilitates cleaning.
5. It can fine the opening and closing speed of hopper door according to the feather of items to be weighed , and prevent crushing and blocking of material .
6. With powerful digital automatic counting function . It can record the index for each batch such as total bag number , pass rate and difference of single bag , etc.
7. Optional devices: suction hopper ,printing device ,tolerance sorting device .
SGM-375 Z Shape elevator Elevator
SGM-130 Finished Product Conveyor
Technical Parameters:
| | | |
| --- | --- | --- |
| Model | MG-130 | MG-375 |
| Convey height | 800mm | 2304mm/2033mm |
| Power | 40W | 750W |
| Convey measure | 50-300mm/s | 4T/H |
| Dimension | 1300(L)×430(W)×800(H)mm | 2500(L)×650(W)×2304(H)mm |
5)Electronic components list:
No.
Item
Brand/Origin
1
Touch Screen
Delta/Taiwan
2
PLC
Delta/Taiwan
3
Servo Motor
Delta/Taiwan
5
Horizontal Cylinder
( Cross Sealing Jaws)

Pneulead/Italy
6
Vertical Cylinder (Vertical Sealing Bars)
Pneulead/Italy
7
Cutting Cylinder
Pneulead/Italy
8
Coding Printer Cylinder
Pneulead/Italy
9
Film Transport Cylinder
Pneulead/Italy
10
Pressure Regulator
Pneulead/Italy
11
Solenoid Valve
Pneulead/Italy
12
Pneumatic FRL
Pneulead/Italy
5
Solenoid Valve
Pneulead/Italy
6
Photocell Sensor
Autonics/Korea
7
Mains Switch
Delta/Taiwan
8
Solid-State Relay
Fotek/ Taiwan
9
Intermediate Relay
IDEC/ Japan
10
Temperature Controller
YaTai/ Shanghai
11
Proximity Switch
LEK/Guangzhou
12
Button
Schneider/Germany
14
Frequency Converter
Delta/Taiwan
15
Terminal Block
Weidmuller/ Germany
16
Leakage Protection Switch
Delixi/China
6)TERMS OF CONSIGNMENT:
The term of consignment is 30 working days Ex works, FOB Shanghai, after receipt of advance payment.Payment By T/T, 50% paid in advance and the balance 50% paid before shipment.
7)PACKAGING:
The Seller is obliged to pack the subject of the Contract for the transport in the appropriate packaging, according to the Regulations of the Seller's country.
8)INSTALLATION AND COMMISSIONING:
The installation and commissioning of the machines, as well as the training of the Purchaser personnel, are excluded in the offered price.
9)WARRANTY:
For the quality of goods, the Seller gives the warranty of 12 months, issued on the day of its consignment, and guaranties that in the mentioned period will replace or repair on the proper expenses, in the proper factory all the parts, damaged as the result of defect materials of fault execution. The appeals in the warranty period have to be under the same period.The damages caused by the improper use, lack of knowledge of instructions or normal tear are excluded from the warranty.